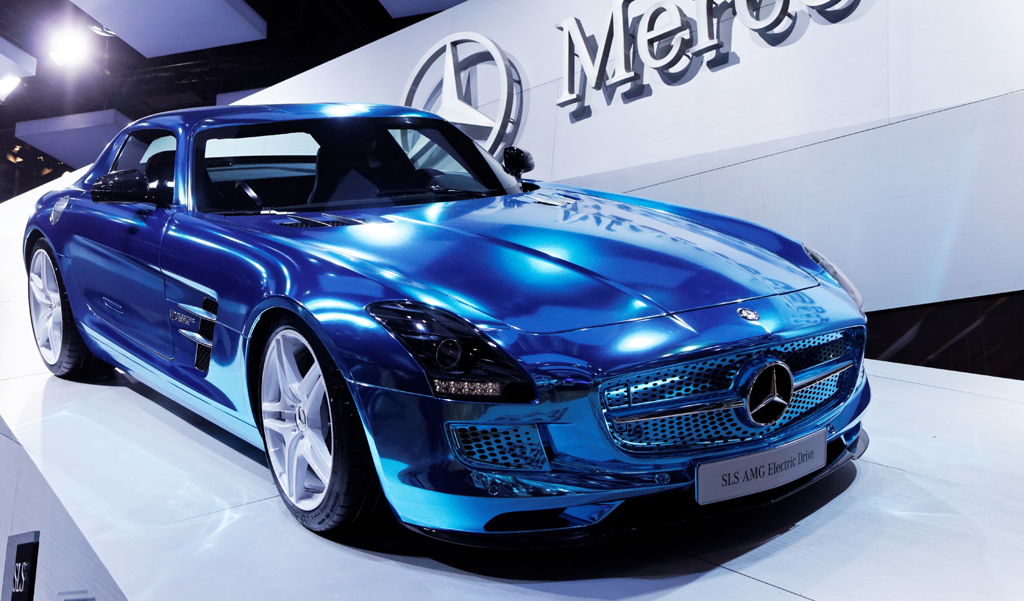 The race to build the world's first production electric supercar is officially over, and it's lurking beneath a familiar silhouette. Mercedes AMG have claimed the electric supercar crown by manufacturing a production 740hp battery powered SLS AMG.
The German carmaker has pushed through astronomically high development costs to beat off the competition and prove that you can succeed at almost anything, no matter how implausible it seems, if you throw enough cash at it.
Whilst the exterior remains visually indistinguishable from its petrol-powered counterpart, underneath its shell the Mercedes SLS AMG Electric Drive is packed with bespoke design and cutting-edge technology.
The chassis has a "Zero Intrusion" carbon fibre monocoque incorporated into the existing structure. It runs through the centre of the car from front to rear and houses and protects the liquid-cooled lithium-ion battery pack, which contains 12 modules, each containing 72 lithium-ion cells.The front suspension uses coil springs for better handling and stability control software operates four inboard-mounted motors which drive the four wheels. Each of the wheels is powered individually and can be accelerated or electrically braked to constantly make the most of the tyres' grip and manipulate the handling balance, the system has been named 'AMG Torque Dynamics'.
Inside the cabin there is little instrumentation to depict the the electrically driven parts of the SLS's engine. The battery is said to have a working life of at least ten years and it can be charged in approximately three hours using a high capacity quick charger.
The Mercedes SLS AMG Electric Drive is an eerily quiet car, so in order to give us petrolheads what we love best, Mercedes have added a menu to the COMAND system called 'eSound'. This emits an atmospheric petrol engine sound through the eleven built-in speakers, and drowns out the whirring of the electric drivetrain.
Hayley has been an automotive writer for almost a decade, and is the editor of a popular UK motoring blog, as well as writing for DDR Surrey Mercedes Specialist. She specialises in Mercedes-Benz and dreams of one day owning a Mercedes AMG A45.