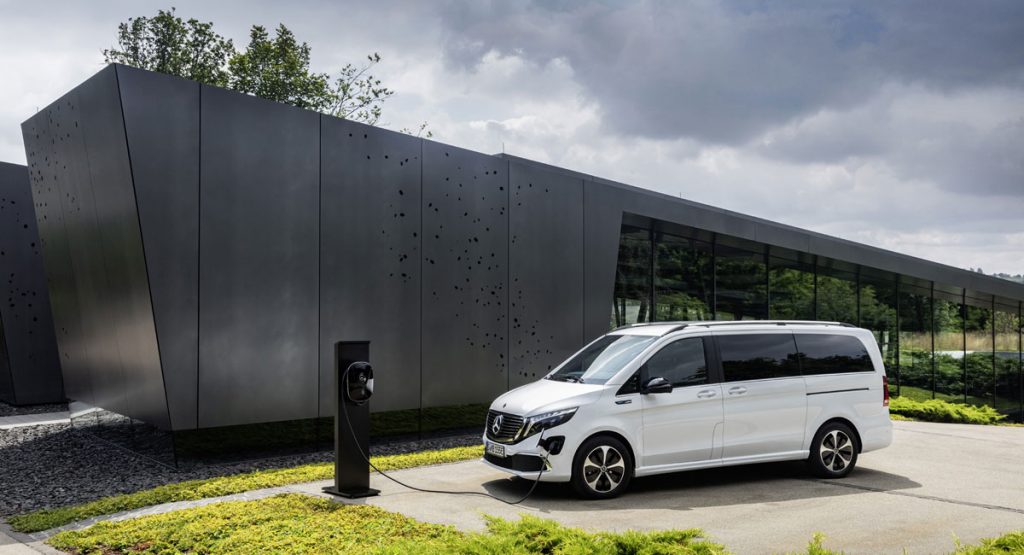 The Mercedes-Benz EQV is finally celebrating its debut. The next member of the Mercedes EQ family combines emission-free mobility with impressive driving abilities, high functionality and aesthetic design as the first fully-electric premium MPV from Mercedes-Benz.
The technical highlights include a range of 405 kilometres and the rapid charging of the high-voltage battery from 10 to 80 per cent in less than an hour. The Mercedes-Benz EQV also offers ultimate comfort in the interior and unparalleled flexibility. Customers can also choose between two different wheelbases.
The installation of the battery in the space below the floor means that all of the space is available, with no impact on the interior of the vehicle. This means that the fully electric MPV from Mercedes-Benz also meets the highest standards in terms of functionality and variability and covers a large number of applications.
In the private sphere, for example, families can benefit from a multitude of seating configurations as well as a good conscience from producing zero local emissions. Six individual seats, on the other hand, turn the Mercedes-Benz EQV into a representative shuttle vehicle that meets all of the requirements for the high-quality transportation of people with comfortable and particularly quiet driving experience. The flexible installation of the individual or bench seats also allows the EQV to be converted into a seven or even an eight-seater.
Maximum range is achieved thanks to intelligent recuperation and different driving modes which ensure that the technical operating range is used to the maximum. The Mercedes-Benz EQV also charges its batteries when on the move. When accelerating or braking, the mechanical rotation is converted into electrical energy and used to charge the high-voltage battery.
With the Mercedes-Benz Wallbox Home and 11kW charging output, the EQV can be charged significantly faster than using a domestic socket. In cooperation with country-specific charger installation partners, Mercedes-Benz also offers easy and rapid installation of the Mercedes-Benz Wallbox and professional advice on all aspects of e-mobility.
The Mercedes-Benz EQV as a new milestone for the "EQ" technology brand
The "EQ" technology brand founded by Mercedes-Benz in 2016 stands for the consistent ongoing development of electromobility.
Hayley has been an automotive writer for almost a decade, and is the editor of a popular UK motoring blog, as well as writing for DDR Surrey Mercedes Specialist. She specialises in Mercedes-Benz and dreams of one day owning a Mercedes AMG A45.