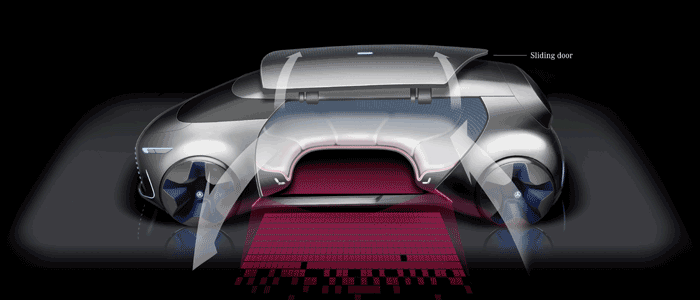 The Mercedes-Benz Vision Tokyo is the latest revolutionary experience from the german car manufacturer. It's futuristic and spacious design define it as progressive luxury which makes the Mercedes-Benz Vision Tokyo a fitting tribute to the metropolis that is Tokyo.
The Vision Tokyo is spatially effective and intelligently connected, capable of driving autonomously, it's been described by Mercedes as an 'urban transformer' to reflect on the growing youthfulness of the brand. It also continues the tradition of the 'Vision' concept cars including the 'Vision Ener-G-Force', the 'AMG Vision Gran Turismo' and the 'G-Code'.
Check out the video below:
Tokyo is the capital city of Japan and is home to approximately nine million people. It is an area four times smaller than Paris with four times as many people! Tokyo represents a combination of tradition and contemporary, constantly designing new technological trends. The conceptual message behind the Mercedes-Benz Vision Tokyo is one of youthful appeal and Mercedes-Benz aim to show how cars of the future can be turned into stylish living spaces.
The vehicle has been designed with innovative algorithms which allow it to constantly evolve. The 'Deep Machine Learning' and 'Intelligent Predictive Engine' means that with each journey the Vision Tokyo makes, it learns a little more about its occupants, their likes and their preferences. All of this makes the Mercedes-Benz Vision Tokyo the perfect vehicle of choice for young urban trendsetters.
The dimensions of the Vision Tokyo are comparable with those of a mid-series vehicle. It does not have a conventional windscreen but rather a continuous stretch of glass panelling. The Alubeam monochromatic paintwork emphasises the proportions of the 5-seater vehicle, whilst the screen-printed windows allow privacy for the occupants. Illuminated blue lines provide colourful highlights and are indicative of the electric-drive system.
As a contemporary-style club lounge, the Vision Tokyo brings people together. With the car in autonomous driving mode they are able to chill and chat, without having to worry about driving through the dense traffic of Tokyo. Whilst apps, maps and displays emanating from the entertainment system are presented as three-dimensional holograms within the interior cabin.
All-in-all, The Mercedes-Benz Vision Tokyo is a mobile club lounge for young urban trendsetters!
Hayley has been an automotive writer for almost a decade, and is the editor of a popular UK motoring blog, as well as writing for DDR Surrey Mercedes Specialist. She specialises in Mercedes-Benz and dreams of one day owning a Mercedes AMG A45.