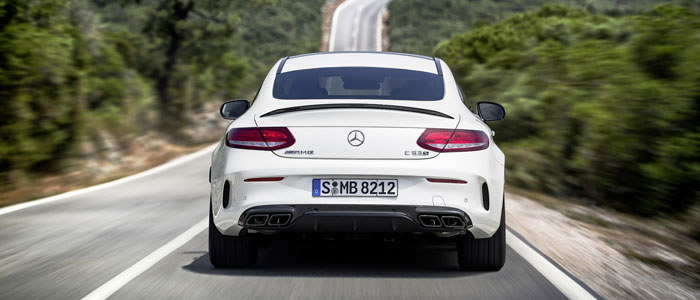 This powerfully muscular performance car, the second generation Mercedes-AMG C 63 coupé, is the car that Mercedes is relying on to steal the limelight from other performance coupés such as the BMW M4 and the Audi RS5.
About to make its debut at Frankfurt, the Mercedes-AMG C 63 coupé oozes both aggression and elegance, and it's got the substance to back up both of these qualities. Powered by the same twin-turbo, 4-litre, V8 engine as the recently introduced saloon and estate versions. The C63 S top of the range coupé packs 503bhp, which makes it the most powerful car in its class.
Official figures released by AMG state that the car is capable of accelerating to 62mph from a standstill in just 3.9 seconds, which is almost half a second faster than its predecessor. The cars top speed is electronically limited to 155mph, although a "Driver's Package" is said to be available which apparently lifts the top speed to 180 mph.
The style of the new C63 is significantly different from the standard C-Class coupé, with the only shared elements being the frameless doors, roof and boot. The remainder of the vehicle has been purposefully designed for this new release, including a revised and unique chassis.
Check out this newly released video by Mercedes-Benz TV of the Mercedes-AMG C 63 coupé in action.
Watching the video you might notice the typical AMG styling, including a menacing front bumper and splitter, with a prominent grille. Muscular side sills with flanks baring V8 turbo badges and those trapezoid shaped exhaust pipes which sit snugly inside the rear.
The cabin is reminiscent of the C-Class coupé but also sports an AMG-specific dashboard and trim along with a multi-functional steering wheel and sports seats. AMG has basically taken everything we love about the C63 sedan and put it into a sleeker and sportier coupé body.
The 2016 Mercedes-AMG C 63 coupé is set to go on sale in the UK in January.
Hayley has been an automotive writer for almost a decade, and is the editor of a popular UK motoring blog, as well as writing for DDR Surrey Mercedes Specialist. She specialises in Mercedes-Benz and dreams of one day owning a Mercedes AMG A45.