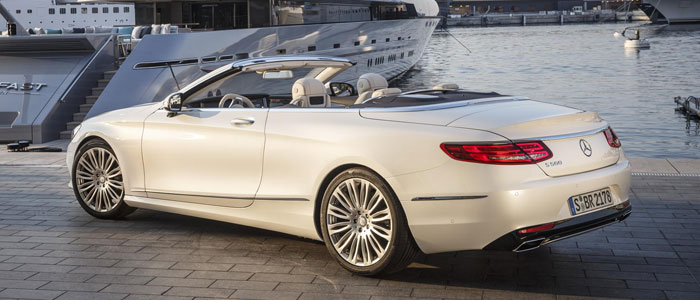 It has taken 44 years for Mercedes to again offer consumers a cabriolet variant of the S-Class, with the latest incarnation being unveiled at the 2015 Frankfurt Motor Show.
With an unmistakeable design, high-class materials and state-of-the-art technology, the new Mercedes-Benz S-Class Cabriolet is following in the footsteps of the 1961-71 open-top S-Class, whilst carrying Mercedes-Benz luxury-segment cabriolets into the future.
Back in the 1920's, luxury cabriolets from Mercedes-Benz combined the freedom of open-top motoring with the comfort and safety of a saloon. From the start of post-war car production, Mercedes-Benz top models were all available in an exclusive cabriolet variant. Including the 170S (W136) from 1949, the 220 (W187) from 1951 and the 300S (W188) from 1952. After the well-known "Ponton" cabriolets were built, from 1956-60, the 220SE cabriolet version of the W111 model was launched. It was a particularly elegant open-top four-seater whose design is still considered timeless to this day.
Mercedes-Benz cabriolets are amongst the most sought after classic cars today with prices developing accordingly. American Hagerty Insurance price guide estimates that a 280SE 3.5l from 1971, in good condition, has a value of approximately $290,000 (£190,349). However this particular model, which was in excellent condition, was auctioned last August by RM Auctions for $429,000 (£281,586).
The new S-Class Cabriolet has been billed by Mercedes as "the most comfortable cabriolet in the world" in the hope of stealing sales from the likes of Bentley Continental. There will be two versions available to buyers, the S500 4.7l V8 and the S63 AMG 5.5l V8.
Check out the official video below for a closer look.
You might want to start saving now though, as Mercedes are likely to pile on quite a few more pounds to the standard coupe's £96,000 starting price.
For more information, or to find your nearest retailer, visit www.mercedes-benz.co.uk
Hayley has been an automotive writer for almost a decade, and is the editor of a popular UK motoring blog, as well as writing for DDR Surrey Mercedes Specialist. She specialises in Mercedes-Benz and dreams of one day owning a Mercedes AMG A45.