The new Mercedes-Benz GLA-Class is due to make its debut at the Frankfurt Motor Show this month.
It's the smallest luxury SUV that the German manufacturers have produced to date, falling in with both the new look A-Class, and the new CLA-Class, as part of an apparent drive towards providing luxury cars at attainable prices .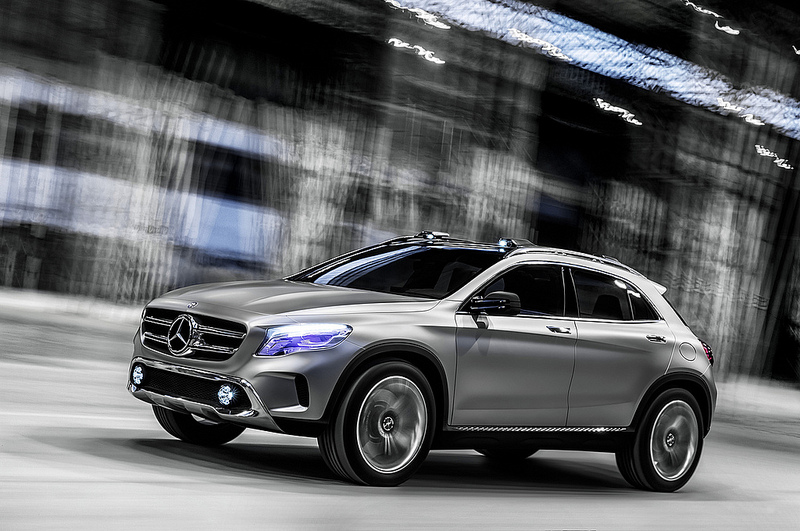 Specifications
Under the hood of the new Mercedes compact GLA sits a 4 cylinder, turbocharged engine. The 1.6 litre petrol GLA offers 136 bhp while the 2.1 litre GLA CDI max's out at 168bhp. It's also been reported that we may see an AMG version of the Mercedes GLA too, this baby would top the range with an estimated 355 bhp. You can some spy shots and more information on this over at autocar.co.uk.
Interior
Inside the new Mercedes-Benz GLA-Class you will feel the typical luxurious style that Mercedes have become renowned for. And as you'd expect, there are a whole mass of standard and optional safety and infotainment extras including; Collision Prevention Assist Plus, Blind Spot Warning, Lane Keeping Assist, Distronic Plus cruise control, full smartphone integration and internet connectivity.
Watch the Video
The GLA-Class is not scheduled to hit the showrooms until November 2013 in the UK, but the interest in this latest release from Mercedes-Benz is peaking due to its scheduled debut in Frankfurt.
Prices are expected to start at approximately £25,000. Mercedes-Benz fans are surprisingly impressed with this forthcoming release. This is probably due somewhat to the cars sporty accents and wide profile combined with the luxury status. The new Mercedes-Benz GLA-Class compact SUV is likely to appeal to the younger and slightly more affluent generations of today.
Hayley has been an automotive writer for almost a decade, and is the editor of a popular UK motoring blog, as well as writing for DDR Surrey Mercedes Specialist. She specialises in Mercedes-Benz and dreams of one day owning a Mercedes AMG A45.