Mercedes-Benz have remodelled the CLA-Class into "a landmark in automotive design" for 2014. They have put a huge amount of effort into combining practicality with the style that some of the more expensive models ooze.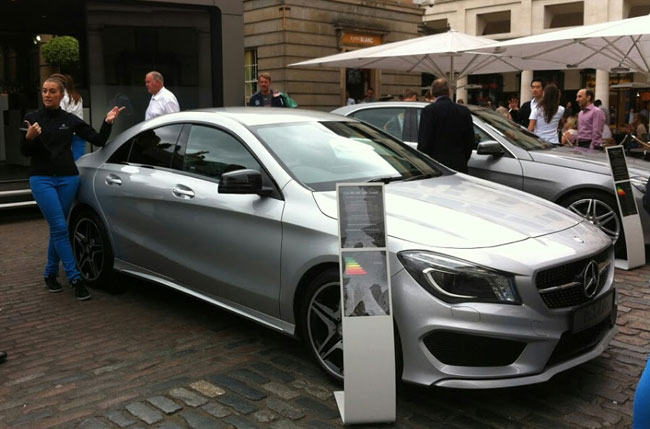 Each sweeping line on the new Mercedes CLA-Class adds definition to the beautifully sculpted surface. They also help to improve the aerodynamic performance of the car. Its even been reported that the drag caused is the lowest of any measured on a production car to date.
The new style of the 2014 Mercedes-Benz CLA-Class is a mix of sporty coupe teamed with the more classic looking sedans. It still has that distinctive diamond grille we associate with Mercedes though and the way in which the roofline sweeps makes this model look very similar to some of the high-end luxury sedans.
Under the bonnet of the beast is a 4 cylinder turbocharged engine that gives out just over 200bhp. Theres even an "Engineered by AMG" version of the Mercedes CLA-Class, that version is capable of a pretty swift 300bhp. That version has what can only be described as a more muscular type of body style, typical of AMG, it also comes complete with a lower sports suspension. The exhaust system is really cool, with twin rectangular tail-pipes that are manufactured in a sexy looking polished stainless steel.
The quality of this ride is good, with an interior that feels slightly less premium than some Benz models. Sports seats are included as standard inside the CLA-Class. this helps provide plenty of comfort with optimal legroom in the front or back seats. The dashboard looks less cluttered and includes a 7 inch display tablet which runs on Mercedes multimedia entertainment systems.
Standard safety equipment includes:
Passenger and side airbags
A collision warning system
Lane monitoring
Optional extras include:
Distronic cruise control
4matic all wheel drive system
Automatic self parking
Panoramic sunroof
Mercedes are clearly targeting the younger market with the 2014 CLA Class, both families and young professionals will be impressed with this latest model that offers affordable quality. But potential buyers of this car should be aware that adding the attractive optional extras will push the price up higher, possibly matching some of the more expensive Benz models in the UK market. In essence, the CLA embodies Mercedes-Benz executive styling, but gives to us at an affordable price, which begins at £24,355.
Looking for a service for your Mercedes Benz CLA-Class? Contact DDR Surrey for a professional and competitive quote.
Hayley has been an automotive writer for almost a decade, and is the editor of a popular UK motoring blog, as well as writing for DDR Surrey Mercedes Specialist. She specialises in Mercedes-Benz and dreams of one day owning a Mercedes AMG A45.