The 41st ADAC Zurich 24 hour race was held at Nürburgring this weekend. The event is known to be one of the most eventful long-distance races in motorsport history, and this year was no different.
People flocked to the Nürburgring Nordschleife this weekend with 180 cars registered to race at this legendary event. A team comprising of Bernd Schneider, Jeroen Bleekemolen, Sean Edwards and Nicki Thiim won the race driving a Mercedes-Benz SLS AMG GT3. It's the first time in the history of this event that a Mercedes has been the winning vehicle.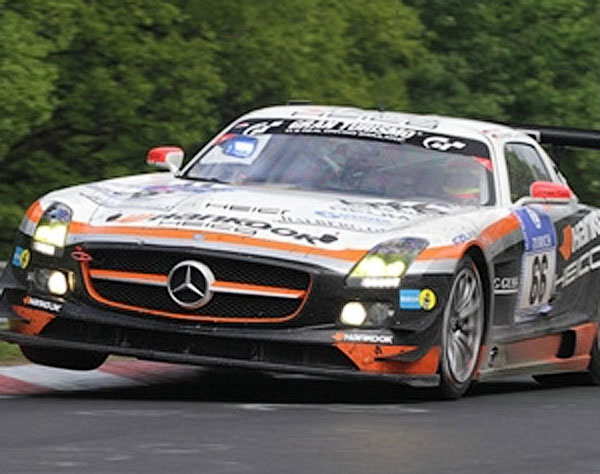 Over 210,000 spectators witnessed an action-packed race, which was interrupted late on Sunday evening due to heavy rain and fog making driving conditions treacherous. This allowed for a nine and a half hour break in which drivers managed to carry out any neccessary maintainence on their cars. After a restart on Monday morning, the winning team lead by DTM record champion Bernd Schneider driving a Mercedes AMG SLS GT3, finally managed to fulfill their long-cherished dream of a Nordschleife triumph.
Second place went to Maxime Martin, Andrea Piccini, Yelmer Buurman and Richard Göransson, driving a BMW Z4 GT3. They managed to push past the third place winners, Rowe Racing who were also driving a Mercedes-Benz SLS AMG GT3 in the penultimate round.
Due to poor weather, the race did not pass without its usual share of bumps and crashes, you can watch the highlights from the race below.
ADAC Zurich 24 Hour Race at Nürburgring Highlights:
Featured Image: By Cubix.
Hayley has been an automotive writer for almost a decade, and is the editor of a popular UK motoring blog, as well as writing for DDR Surrey Mercedes Specialist. She specialises in Mercedes-Benz and dreams of one day owning a Mercedes AMG A45.