Mercedes-Benz and AMG entered into a new business when they produced the first Mercedes SLS AMG GT3 at Sindelfingen back in January 2010. As well as being the featured cover car of the hit Playstation 3 racing game "Gran Turismo 5". They developed, manufactured and marketed these premium racing cars specifically for their customer base. Official approval of the GT3 was finally completed in time for the 2011 racing season. Mercedes describe the GT3 as; "a racetrack specialist that turns the heads of all spectators and competitors, which marks every second on the racing track with timeless excitement".
Watch Mercedes SLS AMG GT3 on the track
The futuristic bodywork
The body sits at 0.7 inches lower than a standard SLS and 2 inches lower. The huge central intake and lower splitter, the deep wheel well vents, the carbon rear wing. They all seem somewhat exaggerated. In my opinion; the car looks a little like a transformer. The Mercedes SLS AMG GT3 appears almost segmented. Lets face it, If Transformers were real, then they'd look like this. Like Soundwave, from Dark of the Moon. Right? In any case, I'm pretty sure every little boy, wants to own one.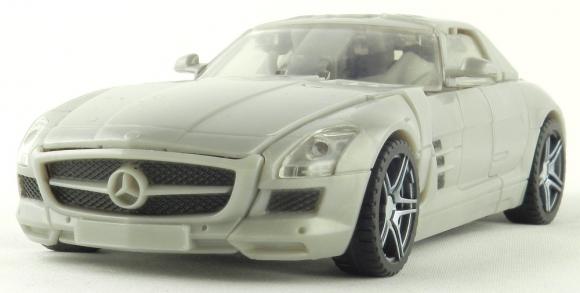 The iconic "gullwing" doors only add fuel to the futuristic, robotic effect. And once you open them up and take a glance at the inside of this car, you'll discover an interior racing atmosphere that is unrivalled by any other manufacturer of racing cars to date.
Inside the beast
Inside the Mercedes SLS AMG GT3 it boasts a carbon console and a digital dashboard that tells you when its time to change gear. The driver is provided with a carbon fibre racing style bucket seat, a six point seat belt, HANS "head and neck support" for safety and a rollover cage made from steel.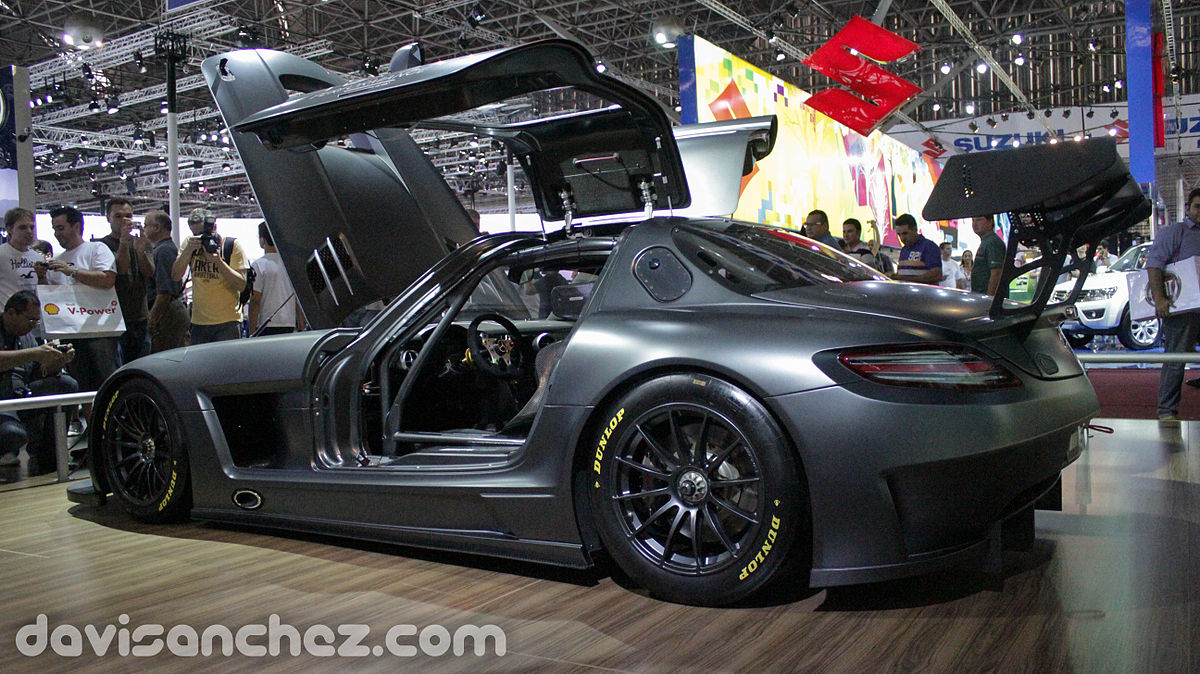 Other reasons you might want one
0-60mph in 3.2 seconds, with a top speed (limited to) of 187mph.
If you are unlucky enough to roll the car when racing then prepare to be impressed. Approximately 10 milliseconds after the vehicle detects a rollover, explosive bolts that are fitted at the top of the GT3's door frame fire off which separates the gullwing doors from the car, allowing for an easy exit during a serious motor racing accident.
Other specifics of the vehicle include a sequential six speed racing transmission, gear shift paddles located on the steering wheel, a racing ABS braking system and 18" AMG alloy wheels.
The Mercedes SLS AMG GT3 and only one other consumer Mercedes, are available in the exclusive AMG "Alubeam Silver" paint.
Overview
The Mercedes SLS AMG GT3 is not street legal which means if you don't purchase your own, in order to drive the car you will probably have to visit a track day special otherwise it's available to drive as part of the Mercedes AMG driving academy experience.
Because of its lightweight construction, the Mercedes SLS AMG GT3 is a highly competitive racing car, not least because it demonstrates AMGs experience gained from over 40 years of motor car racing.
Hayley has been an automotive writer for almost a decade, and is the editor of a popular UK motoring blog, as well as writing for DDR Surrey Mercedes Specialist. She specialises in Mercedes-Benz and dreams of one day owning a Mercedes AMG A45.