After revealing the Mercedes-AMG GT R back in June, Mercedes-AMG are breathing more fresh air into the GT family with two roadster variants of this exciting two-seater sports car.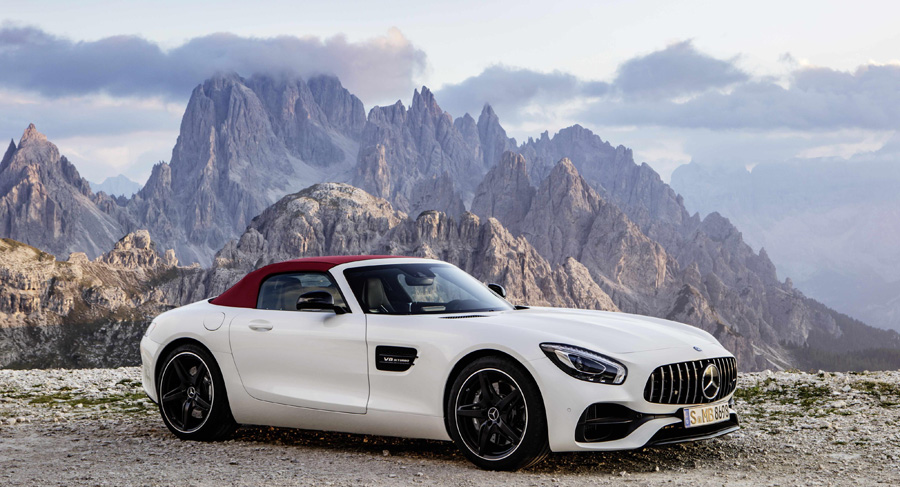 The AMG GT C is the more powerful of the new Roadster variants, using some of the technical refinements and muscular proportions of the AMG GT R. From the expressive AMG grille to the long, muscular bonnet and the wide rear end, these two-seater Roadsters guarantee a pure sports car experience.
The exterior design lines are echoed on the interior, with the dashboard emphasising the width of the vehicle, which creates a powerful impression. The concave door panels, the centre console and the low seat all perfectly integrate the driver into the cockpit. Performance seats are available as an optional extra, with heavily contoured cushions and backrest, providing lateral support.
Tobias Moers, Chairman of Mercedes-AMG GmbH, said:
"With our two Roadster models, we are strategically expanding the AMG GT family by two exciting variants. With the AMG GT C Roadster, we are also introducing a new model variant to which we have transferred main performance-related components from our top sports car, the AMG GT R. The result: a highly dynamic driving experience in a very exclusive ambience, coupled with that pure roadster feeling."
Both Roadster variants offer fully automated, three-layered, fabric soft-tops that quickly transform them from a coupe into an open top sports car. It takes around 11 seconds for the roof to open and the operation can be performed whilst travelling at speeds of upto 50km per hour.
The entry-level GT Roadster has an output of 476hp, reaching 100km/h in 4 seconds, whilst the AMG GT C offers a more powerful 557hp, hitting the 100km/h mark in 3.7 seconds. At peak output the AMG GT C Roadster is 47hp above the AMG GT S and just 28hp below the AMG GT R.
These two new Roadsters make AMG driving performance an even more intensive and beautiful experience.
Hayley has been an automotive writer for almost a decade, and is the editor of a popular UK motoring blog, as well as writing for DDR Surrey Mercedes Specialist. She specialises in Mercedes-Benz and dreams of one day owning a Mercedes AMG A45.