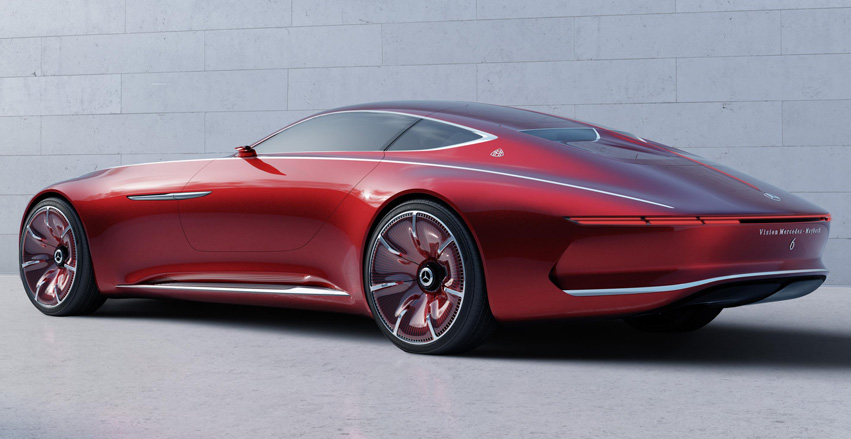 Each year, in August, classic car enthusiasts gather at Pebble Beach in California for the Concours D'Elégance. Mercedes chose this venue, after debuting at Monterey Car Week, to reveal the Vision Mercedes-Maybach 6, a beautifully luxurious coupe.
The Vision Mercedes-Maybach 6 is an electric concept car with a drive system capable of outputting 750bhp. The battery allows a range of over 500km (according to the NEDC) and can either be charged via a cable connection at a public charging station or by using a conventional home electric outlet. For further convenience, it can be charged wirelessly, via an electromagnetic field.
The car measures almost 6 metres in length and reinterprets classic design principles in an extreme way. The proportions of the car, an extremely long bonnet and low roof line, are reminiscent of the aerodynamic coupes of the past, yet the Vision Mercedes-Maybach 6 is not retro in design, more a reinterpretation of a classic, retaining a modern and technoid stance with narrow lights and partially transparent rims.
The 2+2 seater vehicle really pays homage to the age of aerodynamic coupes, consciously carrying forward the tradition. Even without a spoiler, the airflow grips to the contours of car body, breaking away at the tail end of the vehicle.
A reinterpreted Maybach radiator grille, inspired by pinstripe suits, embraces the front end of the car whilst its wings stand in contrast to the feature line on each side, beautifully defining the upper body across the length of the vehicle. The main body has a muscular look, with a striking contrast between the red paintwork and the chrome detail. The wheels are 24-inches with a transparent shield in the vehicle colour, providing a view of the aluminium spokes behind it.
The biggest highlight of the Vision Mercedes-Maybach 6 is the gullwing doors. They underline the sporty character of the vehicle and feature innovatively designed aluminium trim.
Internally the dashboard wing curves across the door trim and right into the seats, creating something akin to a 360° lounge. Additionally the flowing contours and material composition offer a luxury experience. Wood trim within the dashboard, softens the appearance of the digital displays whilst the pale elm wood floor creates a refined look.
The Vision Mercedes Maybach 6, the brands latest concept car, certainly gives us a preview of the most luxurious coupes of the future.
Hayley has been an automotive writer for almost a decade, and is the editor of a popular UK motoring blog, as well as writing for DDR Surrey Mercedes Specialist. She specialises in Mercedes-Benz and dreams of one day owning a Mercedes AMG A45.