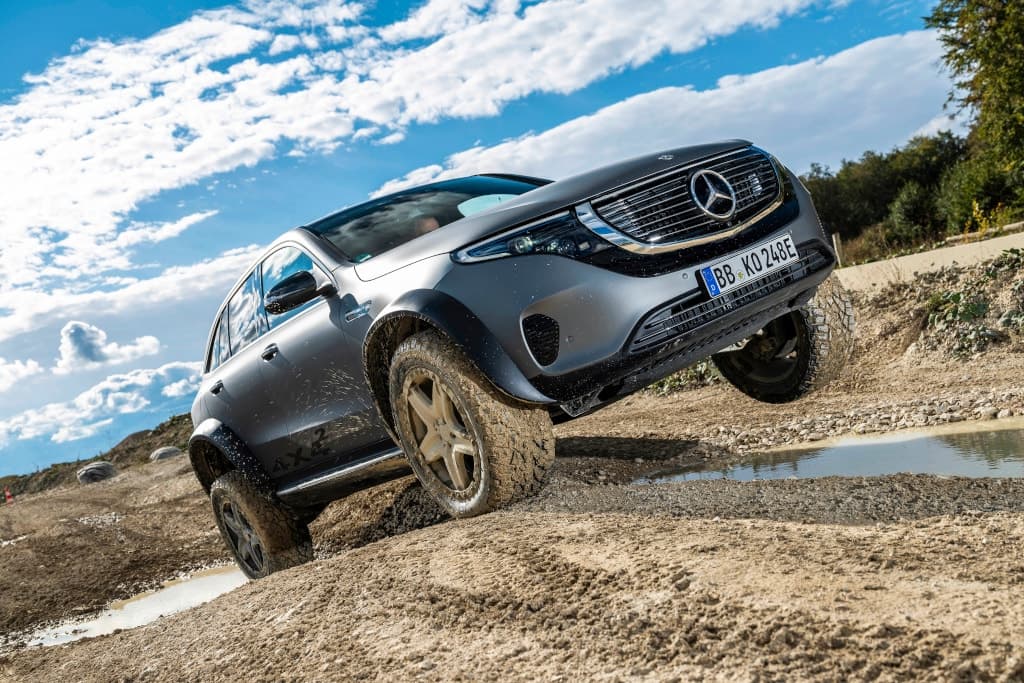 Sturdy, balanced, tech-saturated and sure-footed on any terrain – what more could you want from a 4×4 vehicle? Well, Mercedes-Benz is taking off-roading a step further, with the first-ever fully electric model in the 4×4² series – the EQC 4×4². This new model is the perfect blend of the EQC and Mercedes' other off-roading models such as the G-Class, offering an off-road SUV run entirely by electricity. The question on everyone's lips, however, is whether Mercedes-Benz has found their footing in the EV market with this model.
Despite not being in production yet and no production date announced either, this model is already being touted as one of Mercedes-Benz' most unique yet. When looked at simply, the EQC 4×4² is the standard EQC with terrain-friendly portal axles, but digging deeper, the features and luxuries are endless.
The EQC 4×4²'s predecessor, the standard EQC was Mercedes' first-ever fully-dedicated electronic vehicle. Despite being late to the electronic SUV party, it was the first range of EVs that Mercedes-Benz created that didn't have a petrol or diesel alternative, meaning that more attention could be paid to the finer details. This included a 208-mile range before a recharge, 0-62mph in just 5.1 seconds and interior features such as electronically-adjustable lumbar support seats, and an intelligent infotainment system.
The EQC 4×4² is set to feature these benefits, and more, including those aforementioned portal axles. As the first purely electric vehicle in the 4×4² range, this concept is a lifted SUV, featuring raised portal axles for more ground clearance than it's predecessor. The EQC 400 4Matic, for example, had just 140mm ground clearance, and the 4×4² features a whopping 293mm, which is even an inch higher than Mercedes' famous G-Class. Add the 20-inch wheels coated in chunky 285/50 R20 tyres, and the new concept is one we're eager to see make it to production.
Couple the incredible off-roading experience with unique features including the brand new "lampspeakers". As part of the Acoustic Vehicle Alert System, the ECQ 4×4²'s headlights also hold loudspeakers which also form part of the overall vehicle's soundscape. The soundscape includes driver feedback and interactive emotionalising driving sounds, all of which is influenced by the way you drive and the terrain you're in. The external noise generator, a law-required feature, produces these sounds too and do so through the stylish, streamlined and impressive lampspeakers.
Mercedes-Benz' new EQC 4×4² is one concept car that we are eager to see come to fruition on the production line if only to see just how far the brand has come in the world of electric vehicles. What do you think of the new concept?
Hayley has been an automotive writer for almost a decade, and is the editor of a popular UK motoring blog, as well as writing for DDR Surrey Mercedes Specialist. She specialises in Mercedes-Benz and dreams of one day owning a Mercedes AMG A45.