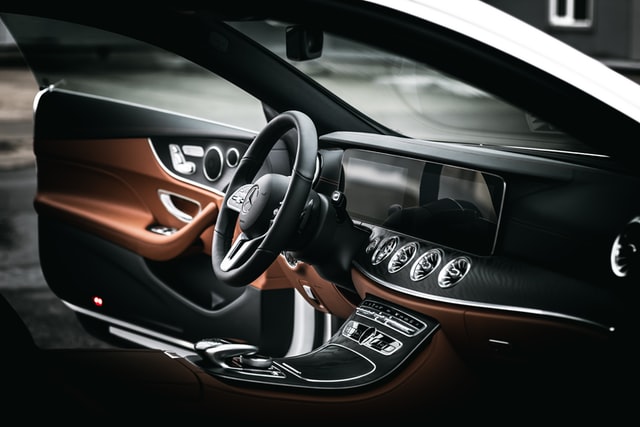 Mercedes-Benz, like most modern car manufacturers, has well and truly embraced the idea of high-tech driving. Infotainment systems have come on leaps and bounds over the past decade or so, drifting from something as simple as digital radio to including everything from smart navigation, to voice control and more. Mercedes have really gone all-out with their MBUX system, to the point where it has become one of the biggest selling points of modern Mercedes vehicles today. So, what exactly is MBUX and what makes it stand out amongst the crowd? We decided to investigate.
What is MBUX?
MBUX, or Mercedes-Benz User Experience, is the brand's luxurious take on multimedia infotainment systems. With most modern editions of this particular system spreading across two screens on the dashboard, MBUX is a media and navigation hub that makes the driving experience more high-tech than ever before and is designed with user experience and convenience in mind. It can be controlled via the highly responsive touchscreen or by voice control, meaning you never have to lose concentration on the road to communicate with the system.
What can the MBUX do?
Mercedes-Benz has produced an incredible piece of technology, one that can do a lot more than you might expect. The standard MBUX system comes with two seven-inch screens – one sits in the centre of the dashboard and the other replaces the standard dial cluster. You can also upgrade to a premium package that features two 10.25-inch screens which create the illusion of a full, sweeping screen. The graphics are sharp, the touch screen is incredibly responsive and easy to use, and you can control almost anything right from the dashboard. 
The MBUX system consists of:
'Hey Mercedes' voice control using LINGUATRONIC
AI systems that learn your voice and accent over time
Indirect command understanding (e.g. I feel cold will adjust the temperature)
Personalised settings that adjust to your preferred driving mode, radio stations, lighting and more via. Profiles
Handwriting recognition for addresses, phone numbers etc.
Maintenance and servicing reminders
Fuel monitoring to intelligently determine when you'll next need to fill up 
Standard services such as music functions, navigation, speed and driving data easily accessible with just a tap
Navigation map available on the screen behind your steering wheel
Easy changing of seat positions
And much more.
'Hey Mercedes'
Mercedes LINGUATRONIC system transforms your vehicle from just a car to your very own unique driving experience. This system utilises artificial intelligence to really get to know you and your driving habits and produce the best driving experiences for you as a result. The system can learn your voice and specific accents and speech patterns, your most-driven routes and favourite alternative routes and even your preferred seat positions and ambient lighting. 
You can also ask your car questions just like a smartphone – want to know where the nearest petrol station or parking lot is? Just ask! You can even ask random questions and your car will scour the internet for the right answer. Feel too hot or too cold? Your car will learn indirect commands and what to do about them. If you say 'I feel cold', it will adjust the temperature accordingly.
Augmented Reality
The MBUX system offers navigation in three main ways to ensure that you get the system that you prefer. There's the standard onscreen mapping that can be switched between the centre console or the dial cluster, app-based navigation via your smartphone's applications (e.g. Google Maps), and even augmented reality. Augmented reality shows you live footage of the road in front of you using a crystal clear camera, then overlays the directions that you need to follow to make navigating confusing road systems or finding the right exit easier than ever before.
The navigation also now has an integrated What3Words system, making is easier to enter specific locations more accurately. Street addresses, new shops or even remote locations aren't always logged into navigation correctly and can be difficult to find. With What3Words, you can use the app on your phone to find the right 3m x 3m spot you want to navigate to and then use the voice command 'Navigate to what3words…' followed by the three-word address the app will give you. This will ensure that you always find your way to the right spot and aren't left lost at the final part of your journey.
Here at DDR Surrey, we are proud to work on a number of Mercedes vehicles for servicing and repairs, including working with the MBUX system. Simply get in touch with our team to find out more about the services we offer, today.