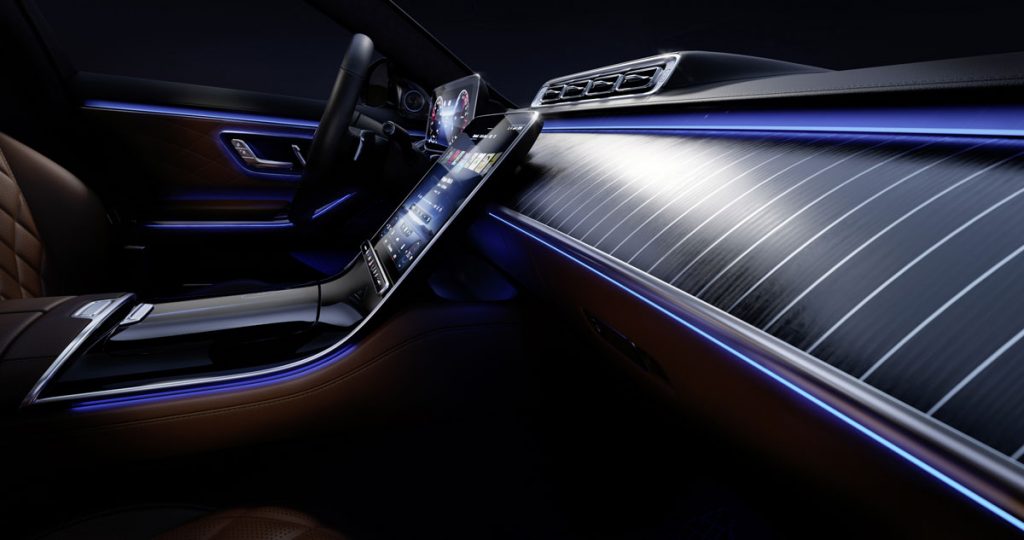 The Mercedes-Benz S-Class has always been a place for comfortable travel and relaxed working. With the new generation, the interior has fully evolved into a "third place", a refuge between home and workplace. Nearly all comfort-related dimensions of both variants, the S-Class with a short and long wheelbase, have been improved on the front as well as on the rear seats.
The sense of space is accordingly generous. This effect is complemented by the revolutionary interior design, including associations with interior architecture and yacht design elements. In addition to the up to five screens, highlights include the large trim elements in the dashboard and in the rear (with the First-Class rear suite). A particularly appealing version is open-pore wood veneer permeated by delicate, form-following inlays made of real aluminium.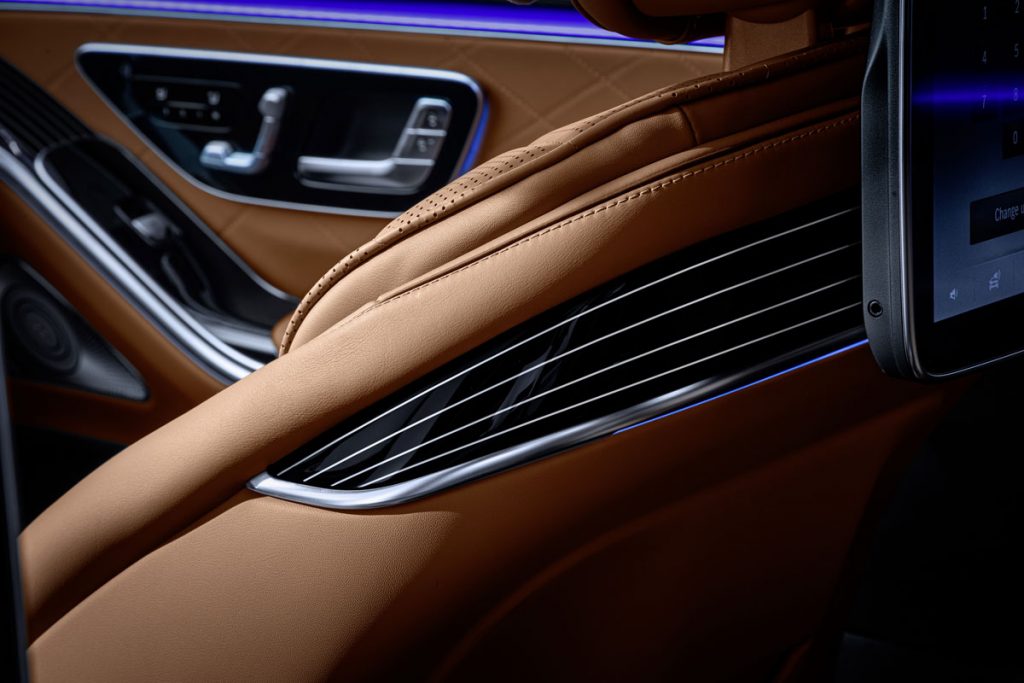 The designers have created a feel-good ambience with lounge character marked by elegance, high quality and lightness. The dashboard with its new architecture, modern surface design and ergonomic display arrangement is a particular highlight. But the feel-good aspect goes even deeper: With high ride quality and low noise levels as well as an extensive range of ENERGIZING COMFORT programmes, the S-Class looks after the well-being of its passengers. They also stay fit thanks to the effective air filtering system, which signals its newly gained capability with the new name ENERGIZING AIR CONTROL.
LED technology enables interactive interior lighting: The active ambient lighting is now integrated into the driving assistance systems and is able to underpin alerts visually. For example, Active Blind Spot Assist warns of an impending collision with a red light animation. In addition, feedback is possible when operating the climate control system or the 'Hey Mercedes' voice assistant, for instance.
The new S-Class can be experienced with many senses – vision, touch, hearing and smell. They can be assigned to the areas support, protection, interaction and wellness.
Hayley has been an automotive writer for almost a decade, and is the editor of a popular UK motoring blog, as well as writing for DDR Surrey Mercedes Specialist. She specialises in Mercedes-Benz and dreams of one day owning a Mercedes AMG A45.