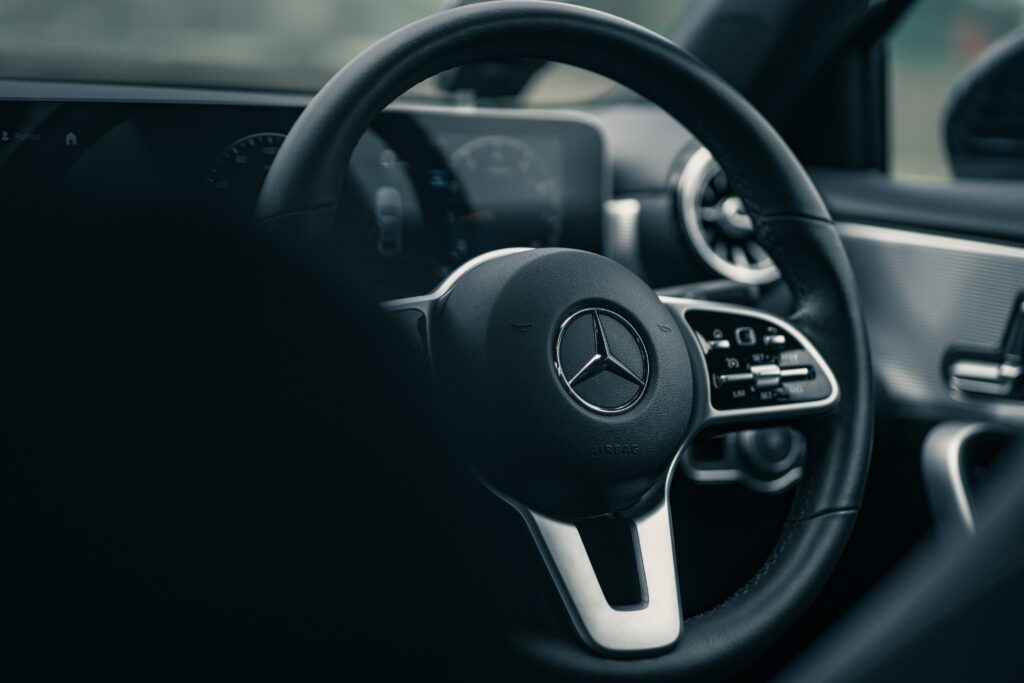 Mercedes-Benz is always working hard to stay at the forefront of automotive technology and innovation and 2023 has been an impressive year so far – with two months still to go! Here at DDR Surrey, we're always keen to keep on top of these changes and innovations, learning the ins and outs of the latest technology in Mercedes vehicles. From upgrades to their EV batteries, to driverless parking and more, here are some of the most exciting innovative announcements from Mercedes this year: 
The New EQG To Get New Battery Technology
Mercedes-Benz announced earlier in the year that their new EQG model would be the first to receive new battery technology. This new technology involves a high-silicon-content battery which offers improved range and performance within a more compact package. It utilises silicone anodes supplied by Sila Nanotechnologies, and will offer a more controlled and effective power distribution and increased power store. Mercedes claimed that the battery can store "more electric energy in any given space than is the case now." Sila Nanotechnologies also commented, stating that this tech was "the first market-proven safe and clean full graphite anode replacement engineered for mass scale to dramatically boost EV performance." This battery, named 'Titan Silicon' could deliver a 20% increase in overall range, even up to 100 extra miles, and is set to transform the EV offering Mercedes have.
In-Car Voice Control To Include ChatGPT
If you've been tuned into tech news over the past 6 months or so, you've likely heard of a platform called ChatGPT and if not the platform itself, you've probably seen something relating to Artificial Intelligence (AI). From artwork and articles to information and new ways of search, AI and ChatGPT are transforming the way we use and consume information and Mercedes has opted to embrace these changes with open arms. In June 2023, they announced plans to integrate ChatGPT into their MBUX Voice Assistant 'Hey Mercedes' service. This promises a more intuitive system that will expand the capabilities of the service. It was only released in the U.S on a Beta programme that owners had to opt into by saying 'Her Mercedes, I want to join the beta programme' in their voice-assistant-ready vehicles.
Driverless Parking
August was a busy month for announcements, but one of the most exciting in our opinion is the availability of driverless parking for Mercedes Vehicles – currently only the Mercedes-Benz EQE Saloon and any equipped EQS and S-Class saloon models. This system will allow drivers to drive into the car park, then exit the vehicle and send the vehicle to a pre-booked parking space in the participating parking garage. The first garage to offer this parking to Mercedes customers was Stuttgart Airport, however, it's expected that key locations across the globe will start to opt into this service. Driverless parking in booked spaces takes the stress out of parking your car and ensures you can get on with your day without driving around looking for a space. The car itself will only park autonomously when the app confirms that the infrastructure has taken control of the vehicle, and then is guided by intelligent infrastructure provided by Bosch to park the car in it's designated space. It will also drive out of the space and back to the designated pick-up area when prompted to in the app.
The First High-Power Charging Stations
Mercedes-Benz also announced in August that they would be opening up their very first Mercedes-Benz charging hubs in October this year. They aim, by the end of 2024, to have developed a charging network that includes over 2,000 high-power charging hubs and it all starts with their first hubs in Atlanta (USA), Mannheim (Germany) and Chengdu (China). They plan to have over 10,000 charging points offering a new standard for fast, sustainable and convenient charging across the globe. Franz Reiner, CEO of Mercedes-Benz Mobility AG, stated:
"We firmly believe that electric mobility is the key to a sustainable, zero-emission future. Our goal is to create an infrastructure that offers electric vehicles reliable and easy charging options. In this way, we are actively supporting the transformation to electric mobility. With the Mercedes-Benz High-Power Charging Network, we are expanding global charging options and setting new standards in electric vehicle charging. We want to encourage our customers to switch to zero-emission vehicles and thus make a positive contribution to protecting our environment."
While we are more than excited to see how these updates play out over the years, they aren't the only improvements and innovations we've seen. With plenty more on the horizon, the next few years will undoubtedly be exciting for the brand.
If you own a Mercedes and are in need of support with your Mercedes maintenance or repairs, we are on hand to help. Simply get in touch with a member of our team for more information or to book your vehicle in with us, today.