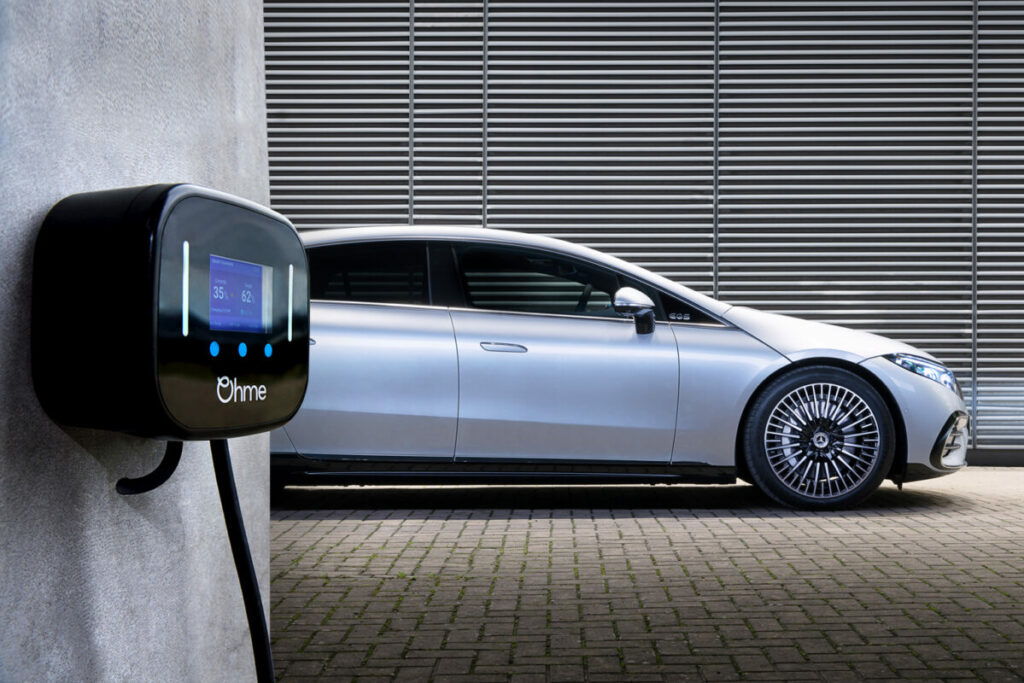 Mercedes-Benz has recently announced a brand new partnership here in the UK that is set to improve the home charging experience for their electric vehicles. This partnership sees the automotive manufacturer team up with Smart Charging company Ohme, a Cork-based EV charging company that is already making waves in the industry.
This partnership will be based on Mercedes recommending Ohme's products to their customers, and the Ohme Home Pro charger on display in Mercedes showrooms country-wide. It's also worth noting that this agreement is going to sit alongside Mercedes's previously-signed agreement with PodPoint.
The chargers that Ohme offer are set to improve the charging capabilities of vehicles at home, with a particular focus on reduced cost. There are two home chargers listed on the Ohme website – the Ohme ePod and the Ohme Home Pro, with the former untethered and the latter tethered. Both work via their smart charging system, which aims to only charge your vehicle at the lowest energy cost times. It connects directly to the national grid in real-time, offering adjusted charging rates depending on the lowest priced tariffs at off peak times, particularly when renewable energy generation is at its highest. This could mean that your Mercedes-Benz vehicle would charge up to 80% for under £4.
On this, Mercedes states: "Charging a Mercedes-Benz EQA with a 66kWh battery from 0 to 80 per cent charge with an Ohme smart charger on a smart off-peak tariff, such as Octopus Intelligent, could cost just 3.96 pounds."
Ohme has also commented on the partnership, first announcing the partnership publicly on Twitter, explaining: "Ohme has been chosen by @MercedesBenzUK as its new official home charging partner. It will recommend Ohme's smart charging tech to EV drivers who need a home charger. Our team of experts can't wait to introduce Mercedes-Benz customers to the benefits of dynamic smart charging."
The company's Chief Executive, David Watson, also released the following statement: "Mercedes-Benz has one of the strongest premium line-ups of electric vehicles. This collaboration with Mercedez-Benz underlines Ohme's position as one of the UK's fastest-growing and most dynamic smart charging companies in the UK. We're looking forward to introducing Mercedes-Benz customers to the benefits of smart charging and supporting its network of agents."
With Ohme claiming that users could save up to £600 a year on their car charging costs, this is a partnership that could go a long way to improving the home charging experience for Mercedes owners and we're keen to see what else the future of this partnership could hold.
Here at DDR Surrey, we are proud to hold decades of experience in servicing and repairing Mercedes vehicles. If your existing EV, petrol or diesel vehicle is in need of some TLC, we are on hand to help – get in touch with a member of our team, today.