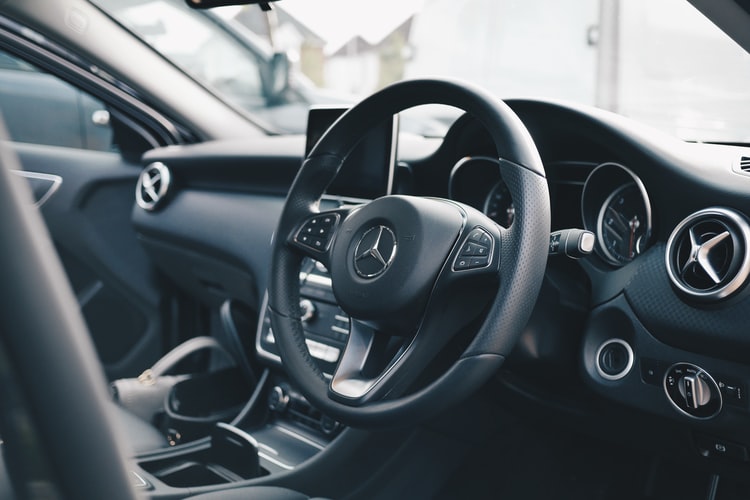 Mercedes-Benz is known for a lot more than just their luxury, high-class vehicles – they've been at the forefront of automotive innovation from as early as 1885-1886 when founder Carl Benz created what is considered to be the first automobile. From what seems like staples in our vehicles today, to the latest innovations that are completely transforming the way we drive, we're taking a dive into the brand's history to see just which innovations have shaped the brand and the automotive world as a whole.
The First Automobile
The first car to ever be created under the Benz name was the "35 HP", which just so happened to also be the first recognised automobile in the world. It held the very first stationary gasoline engine, which had been designed and developed by Carl Benz in as early as 1879, and would go on to become the basis from which other vehicle manufacturers began to design and create lightweight motor vehicles that develop into what we know today.
It was a long-distance journey taken by Bertha Benz, Carl's wife, and their two sons, that introduced the vehicle and its practicality to the world, ultimately triggering the growth of the company and of the uptake around the world. The journey was 180 kilometres including detours and a return trip, and was all done without Carl Benz's knowledge!
Multi-Valve Engines
In 1910, Mercedes-Benz shook up the world of vehicle engines by designing, manufacturing and releasing the very first multi-valve engine. It was known as the Benz Prinz Heinrich Wagen and was designed to improve driving performance. It featured four valves overall and two spark plugs per cylinder.
Early Electric-Powered Vehicles
Mercedes were using a form of electricity in their vehicles as early as 1906, paving the way to the hybrids and electric vehicles that we know and see today. While different in many ways, this early ancestor of Mercedes-Benz' current EV range was a battery-electric assistance system that equipped passenger vehicles, trucks, buses and fire trucks and essentially created a hybrid drive. In the 1970s, Mercedes began intense development work on electric and hybrid systems much more like those that we know today, including vehicles with alternate drive systems that were well on their way to the ultimate zero-emissions goal that the company still holds to this day.
Vehicle Safety
Designed and released in vehicles in 2002, Mercedes' PRE-SAFE® system revolutionised vehicle safety. It was a milestone for the company, and features are included as standard or as options in a range of models, including the C-Class, E-Class, S-Class, CLA, CLS, GLA, GLC, GLE, GLS, G-Class, SLC, SL and GT.
The system uses ESC (Electronic Stability Control) to prevent accidents from happening by working with secondary safety features to prevent and avoid collisions. This includes sensors places throughout the vehicle to monitor the dynamic state of the vehicle and driver, which will also tighten the seatbelts, adjust head restraints and adjust the seating position. It will also close windows and the sunroof. These measures are reversed as soon as the collision is avoided and normal driving is resumed.
Intelligent Driver Assistance Technology
2013 saw Mercedes Benz take a huge leap in the world of driver assistance technology with the introduction of their INTELLIGENT DRIVE system. This was a suite of tools designed to not only assist drivers as they travelled but make the entire experience safer and more pleasant all-round. The systems included:
Brake Assist and Cross-Traffic systems that sense traffic and pedestrians and applies gentle braking pressure when required
DISTRONIC PLUS – a system to help drivers stay in lane and adapts driving to traffic flow
Active Lane Keeping Assist helps drivers by keeping them from drifting out of lane unintentionally and will inform a driver if the lane they're moving to is busy
Night View Assist Plus utilises infrared LED spotlights in order to detect obstacles beyond what headlights can reach.
ATTENTION ASSIST is a system that tracks and assesses signs of drowsiness or sleepiness in the driver, and will audibly alert accordingly.
Evasive Steering Assist will use sensors to avoid pedestrians in a controlled manner before straightening the vehicle again, at speeds between 20-70 km/h.
Infotainment And In-Car Technology
Nowadays, infotainment and in-car technology seem to be a staple in most new cars, and Mercedes are certainly following that pattern. The first APS (Auto-Pilot system) was released back in 1995, followed by a COMAND navigation system in 1998, which were some of the first kinds of in-car technology the brand, and the automotive industry as a whole has seen. The navigation system released an online version in 2011, which showed traffic information and other Mercedes-based applications, which were only improved in 2014 with the release of 'Mercedes me' which gave drivers the opportunity to send locations to the car, directly from their phone. Since then, Mercedes-Benz has gone on to improve and release more and more impressive infotainment systems and features, including the recently MBUX (Mercedes-Benz User Experience), which features high-resolution widescreen cockpits, with touchscreen operation, AR technology and AI voice control.
Mercedes-Benz has come on leaps and bounds and pulled the automotive industry as a whole with it, improving not only how we drive, but how safely we can too. From the mechanical basics like multi-valve engines to the latest in smart technology to improve the overall travel experience, Mercedes are in no doubt leaders in innovation. For more information or for help with your Mercedes vehicle, get in touch with a member of our team, today.